Lorena Lopez de Lacalle imparte una conferencia sobre el Concierto Económico vasco ante representantes de Fundaciones europeas
La Fundación Alkartasuna participa en la Asamblea General de la European Political Foundation Centre Maurits Coppieters en Transilvania
El 15 y 16 de junio la fundación de la Alianza Libre Europea, Centre Maurits Coppieters ha celebrado en la localidad transilvana de Szováta (zona de mayoría hungara de Rumania) su Asamblea General anual bajo la presidencia de Xabier Macias; también director de la Fundación Galiza Sempre, y jornada 'Devolution and autonomy in Europe'.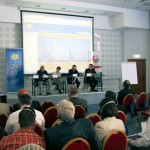 Ponentes:
Lorena Lopez de Lacalle, vicepresidenta de la Alkartasuna Fundazioa:
'Tax Autonomy and Fiscal Devolution. The Basque economic agreement a unique model within the European Union'
Josep Huguet, el presidente de la Fundació Josep Irla i Bosch:
'Tourism and identity'

Roccu Garoby, presidente de European Free Alliance Youth y miembro del Partitu di a Nazione Corsa:
'Autonomy, regionalism and languages in France: The Corsican Case'

Gunther Dauwen, director de European Free Alliance,
'The right to decide'

Laszlo Tokes, presidente del Hungarian National Council of Transylvania
'The Union with Transylvania'

Tibor Toro,  del Transylvanian Hungarian Peoples Party,
'Transylvanian autonomy efforts since 1920'

Miklos Bakk, profesor de ciencias políticas,
'Options for Transylvanian Hungarian Autonomy'

Clausura: Janos Antal, editor del Transylvanian Monitor, observatorio sobre los derechos humanos del Consejo Nacional Hungaro de Transylvania.